From Nancy at Surrendering To God, Thanks
Thanks to Sister Phyllis from Shelter Intercessory Prayer Ministry.
Many Thanks to Peter J. Tibbett.
Much thanks to DJ French.

Thanks to Mandy, at I Will Rejoice.
Thanks to Mary Beth at The Gathering.
Thanks a bunch Mandy.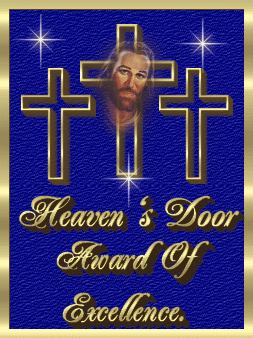 From Words Of Life And Hope, Thanks alot.
From David at Jesus Page Tools, Thanks.
Many Thanks to Mandy Hinson, at Mandy's Christian Website.
From Brenda Sanchez at Immanuel Ministries, Thanks a bunch.
From Follow Christ, Thanks.
Thanks to Karen at Webheppers.
From Allen Gosser, at Our Light House, Thanks.
Many Thanks to T.D. Lofton Ministries.
Thanks to Todd at WM8C's Ham Links
Many thanks to Debbi at A Christian Witness.
From Bob Farmer at Internet Sermons, Thank you very much.
From Prayer In Progress, Thanks alot.
From Veronica at Home With God, Thanks.